Window cleaning cost in West Hartford might seem steep to some homeowners, but window washing is an important investment for any property. Every homeowner should schedule window washing regularly, to ensure a clean and pristine property in good condition.
Residential window cleaning costs in West Hartford might average between $10 to $15 per window, or $4 to $8 per pane. Total costs overall might average between $150 to $350 for full house window washing.
These prices don't necessarily include added fees for homes difficult to access, third story windows, screen and frame cleaning, and the like. To help you better understand your expected costs for window washing in the West Hartford area, note a few details contractors might consider. This information can help you better anticipate your expected window cleaning costs.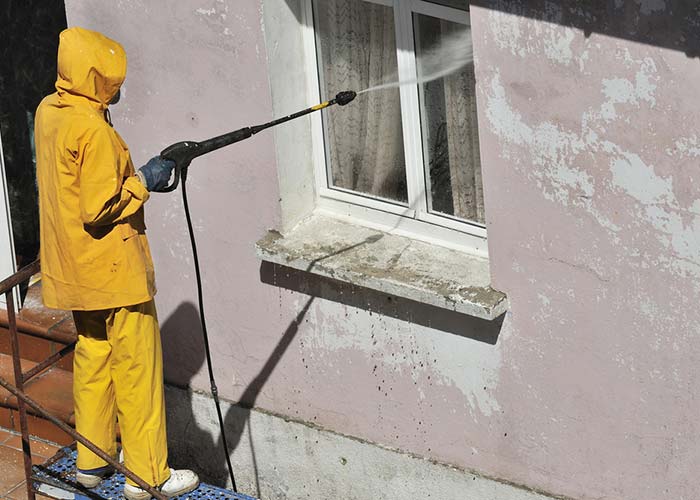 Figuring Residential Window Cleaning Cost in West Hartford
Most window cleaners start with a base price, usually between $4 and $8 per pane or $10 to $15 per window, as said. Standard single-hung and double-hung windows, smaller awning windows such as used for basements, and sliders often start at the lower end of this range, as these are relatively easy to access and clean.
Larger panes, such as for bow or bay windows, oversized casements, and picture windows will typically run at the high end of this pricing and might cost even more, depending on their size. Large picture windows, for example, might take up as much space as a half dozen smaller windows, so your window cleaning contractor will price its cleaning accordingly.
What Might Add to Your Window Cleaning Costs
A window washing contractor might add certain fees to those base prices. While each contractor's pricing will vary, note a few common examples of added costs:
· Windows that are difficult to access, such as along an exterior wall sitting close to a fence or windows on a third story, might mean an added fee per window.
· Screen, track, and sill cleaning might not be included with window washing and might mean an added $5 or more on average, per window.
· Sliding glass and French patio doors might range between $6 and $13 to clean, as their glass is obviously much larger than average windows.
· Specialty cleaning such as removing mineral deposits or hard water stains, paint, thick mud or dried dust, and other such debris might cost an added $3 to $10 or more per window.
Is Window Cleaning Worth It?
Before you decide that window cleaning isn't worth the cost, you might note some benefits to regular, professional window washing and why it's an excellent investment for your home. First consider that dirt and grime, especially gritty debris, etch and scratch window glass. This etching not only makes windows look gray and cloudy but they also hold more dirt, making that damage even worse!
Dirty windows can detract from a home's entire appearance, reducing curb appeal and creating a rundown, dingy look. Thick dirt and grime also block sunlight from interior spaces, while regular window cleaning improves the view from both inside and outside your home!
Window washing removes dust, pollen, air pollution residues, cigarette smoke and ash, soot, and other bothersome irritants from exterior glass, improving outdoor air quality and allowing for easier breathing. Regular window cleaning is especially vital if anyone in the family has asthma, allergies, or other such health concerns.
How Often Should Windows Be Cleaned?
Many homeowners find that semi-annual window cleaning, meaning every two years or so, is sufficient for their home. However, you might need more consistent window washing at least for a few windows in particular if you smoke outside or use a grill that produces lots of soot and smoke. Window washing removes all that residue from windows before it can get too thick and bothersome!
If you have a pool on the property near an exterior window, you might also find the glass consistently coated with minerals and other deposits. Schedule annual window cleaning for those panes in particular, to keep them clean and damage-free. A one-time cleaning might also be needed after heavy storms move through the area and deposit dirt and grime on your home's windows!
West Hartford Power Washers is happy to bring this information to our customers and hopefully it helps you anticipate the cost of window cleaning for a West Hartford home. If you need window washing or any other residential or commercial exterior cleaning, turn to our trusted West Hartford power washing contractors. We have over 20 years of experience, provide FREE quotes, and guarantee all our work. To find out more, contact us today!