Regular home pressure washing in West Hartford is vital for keeping your house and property in tiptop shape, and for preserving its overall curb appeal. While homeowners can often rent pressure washing equipment from local hardware and home improvement stores, it's recommended that you rely on pressure washing contractors in West Hartford instead, to get the job done right.
If you haven't scheduled home pressure washing in West Hartford in many years or were thinking about tackling this job on your own, you might note some questions and answers about professional power washing services. Understanding some vital details about this work can ensure you make the right choice when it comes to West Hartford home pressure washing and that your house and property always look their best!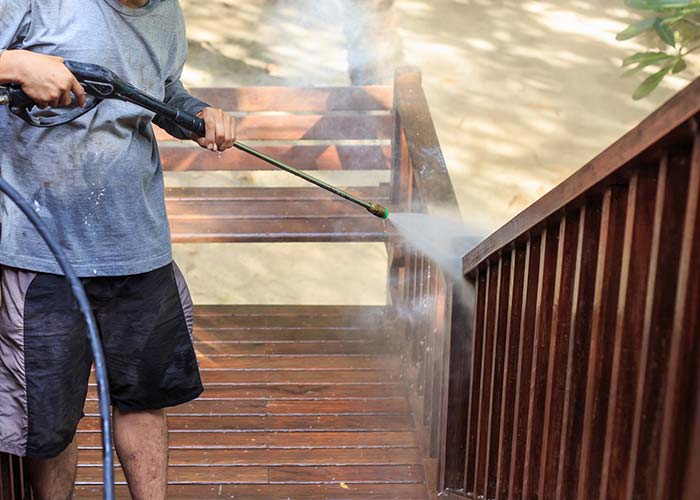 How Often Should You Schedule Home Pressure Washing in West Hartford?
Many homeowners are surprised to find out that they might want to schedule home pressure washing in West Hartford at least annually, if not several times throughout the year! Mud, dirt, dust, and other debris build up on the outside of homes rather easily, creating an unsightly appearance and increasing the risk of damage to exterior brick and siding.
Roof cleaning a West Hartford home also removes layers of dirt, mud, soot, storm debris, sand, silt, bird droppings, and other residues that damage and loosen shingles and tiles. West Hartford gutter cleaning once or twice per year also ensures gutters are free of clogs and your home is protected from potential water damage.
A West Hartford power washing contractor might also note special considerations that make it vital for you to have your property power washed more than just once every year; for example:
If your home is located in especially stormy areas, this often results in added dirt and mud caking the sides of walls and exterior windows.
Tree branches that hang over your home drop leaves, twigs, sap, and other debris, while also providing a place for birds to roost and leave their droppings behind!
Heavy vehicle traffic near your home often results in thick soot covering exterior walls and the home's roof, so that you need West Hartford roof cleaning especially more than every few years.
Lots of trees on your property, even if they don't hang over the house, often means debris clogging your home's gutters so that you need gutter cleaning of a West Hartford home on a regular basis.
Motor oil is especially corrosive to concrete and asphalt; if a West Hartford home pressure washing contractor notices oil spills and other stains on your home's driveway, he or she might recommended more consistent driveway power washing throughout the year.
Can You Use Vinegar or Bleach in West Hartford Pressure Washing Equipment?
One reason to rely on the services of a West Hartford pressure washing company is that they know the best detergents and cleansers to use for every surface of your home! It's vital that a homeowner understand that exterior surface materials such as brick, concrete, siding, and wood are not like your home's interior surfaces. Using bleach, vinegar, and other such cleansers might be recommended for cleaning floors and countertops inside your home but can be ineffective outside, while also creating an unpleasant odor on your property!
The wrong detergents and surfactants and things like bleach and vinegar can also damage West Hart power washing equipment, drying out its rubber parts and clogging the wand and nozzle. A professional home power washing contractor in West Hartford will know the right detergents to use to keep their equipment in good repair while also making quick work of cleaning your property's exterior surfaces!
Is Driveway Pressure Washing in West Hartford Damaging?
Professional home pressure washing in West Hartford is not harmful to the surfaces of your property's exterior, and protect outside concrete, wood, brick, and other materials from damage caused by mud, dirt, dust, and the like. However, it is possible for driveway pressure washing in West Hartford and other power washing to damage a home when done incorrectly!
Homeowners often don't realize the proper techniques for home pressure washing in West Hartford, such as the distance and angle to hold the wand of the power washer. Improper techniques used during West Hartford roof cleaning, driveway pressure washing, and exterior house washing often results in loosened shingles, damaged brick and siding, dislodged patio pavers, and even chipped concrete. Rely on a power washing contractor for all the exterior house washing and driveway power washing you need to have done so that your property is protected from this damage.
Does Home Pressure Washing in West Hartford Cause Mold?
It's easy to assume that home pressure washing in West Hartford would cause mold and especially if you've ever seen a power washing company leave a property sopping wet after their work is finished! However, power washing a wood deck or fence and roof cleaning in West Hartford actually removes mold and kills mold spores as well as developing algae, moss, and mildew.
A professional power washing contractor in West Hartford should also know the best technique to use that won't leave behind puddles of water or a soaked deck or fence. A highly-trained contractor will ensure all water is directed away from the property and surfaces cleaned so that it isn't absorbed by wood and other materials, and the risk of mold growth is reduced or eliminated.
What Can You Power Wash?
Remember that home pressure washing in West Hartford doesn't stop with your house and property alone! You can also have a West Hartford power washing contractor clean away dirt and grime from:
Recreational vehicles and ATVs
Boats and boat trailers
Cars, trucks, and commercial vehicles
Most grills and other outdoor cooking equipment
Awnings and large patio umbrellas
Rubbish and compost bins
Gazebos and pergolas
Swing sets and other outdoor toys
Gas-powered engines and greasy tools
Whatever your needs for home pressure washing in West Hartford, call a power washing contractor near you and ask; chances are that they can get everything around your property clean and pristine and looking like new!