Home power washing costs are well worth the investment, no matter where you live or condition of your property! Regular pressure washing does more than just create a clean and pristine appearance; exterior house washing, roof washing, gutter cleaning, and other such services keep a house and surrounding surface materials in good condition while also improving outdoor air quality!
Power washing a house might cost from $170 to $250 or more depending on the size of the home and levels of filth. Most power washing contractors charge by the square footage for exterior house washing, roof washing, driveway and sidewalk cleaning, and other similar services, but might charge per pane for window washing or a flat rate for gutter cleaning.
Costs for home power washing are minimal when you consider the benefits of regular pressure washing! If you've been avoiding this work for several years or have attempted DIY pressure washing with mixed results, you might note some vital information about standard power washing services. You can then discuss your property's needs with a power washing contractor near you and ensure your home and surrounding property are always in good condition.
You might also consider some added tips for keeping your house in tiptop shape between pressure washing services. A local power washing company might also offer some personalized advice for keeping exterior surfaces clean and protecting outside building materials from otherwise avoidable damage.
What Does Home Power Washing Cost and Include?
Only a power washing company near you can offer an exact quote for your home but note some added details about what residential pressure washing includes and why these costs are such an excellent investment in your home!
Most residential pressure washing services begin with a specialty detergent designed to dissolve thick dirt, mud, dried dust, and other debris. These cleansers also seep into nooks and crannies of exterior surfaces such as roofing shingles, brick, stone, concrete, and similar materials for a deep, thorough clean.
Roof washing removes not just soot, dirt, and air pollution residues but also twigs, leaves, Spanish moss, bird droppings, mold, and algae from along shingles and flashing. Roof washing costs might average around $250, depending on the size and shape of your home's roof and levels of dirt.
Exterior house washing is an excellent choice for removing developing mold and mildew along a home's walls and roof eaves. Mold is especially unhealthy and often creates an unpleasant odor that detracts from your enjoyment of your outdoor space! Outside house washing is often calculated by the square foot, typically anywhere from $.08 to $.35 per square foot.
Residential power washing cleans away smoke and soot stains left behind by outdoor grilling before those stains set in and discolor your home's exterior permanently! Pressure washing also removes those smoky smells trapped in wood decks and fences, for a cleaner outdoor environment.
Unchecked mold, moss, and mildew growing along wood fences and decks only spreads and leads to severe, costly damage. These substances are also quite slick, creating an unsafe walking surface on a home's deck. Regular power washing removes mold and kills those growing spores and roots. Wood fence and deck cleaning is also typically calculated by the square foot.
Pool deck cleaning removes growing algae as well as chlorine residues from concrete and patio pavers, for a clean and safe pool area. As pool deck cleaning might include the use of specialty scrubbers, note that its square footage cost is often higher than other residential pressure washing services.
Professional gutter cleaning reduces the risk of clogs and rainwater damage along the outside of a home. Gutter cleaning might be charged at a flat rate; most services average between $125 and $200 per story.
Window cleaning keeps you safe on the ground while improving your view from both inside and outside the house! Window washing is often charged at $2 to $7 per window or pane.
Note that your prices will vary from these average costs; in some cases, you might see a discount if you combine services such as roof washing and gutter cleaning, or your costs might be at the high end if your home is especially filthy and needs extra work to get it clean!
Should You Power Wash a House?
Many homeowner have the mistaken idea that power washing damages a home! It is true that amateur pressure washing, using the wrong tools and techniques, might damage exterior brick, siding, and wood especially, but professional power washing contractors know how to clean a property thoroughly and safely. Before you put this work off for another year or avoid scheduling it altogether, consider some reasons why you need to call a pro to power wash your house.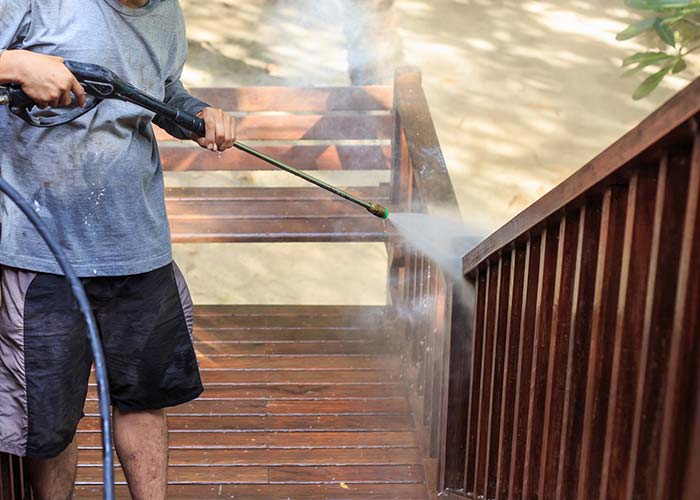 Moss, mold, algae, and storm debris are often damp, holding moisture against outside brick, roofing shingles, and other materials. Over time, this moisture might soften these materials, leading to cracks, chips, and other damage as well as water leaks inside the home!
While you don't want outside materials exposed to heavy moisture levels, note that drying soot, acid rain residues, pollution, and other such debris also damage surfaces. Shingles and brick might dry out and then crack and crumble while dry wood is prone to splintering and splitting.
Airborne mold spores are not just unpleasant but also unhealthy! Regular power washing to remove developing mold improves outdoor air quality so you and your family can breathe better when enjoying time on the deck or patio.
Professional window washing removes damaging sand, silt, and other gritty debris, protecting exterior glass from premature damage. Clean windows allow more sunlight into a home, helping houseplants grow and creating a bright, welcoming environment!
Algae on a pool deck also creates a slick surface, unsafe for walking. Airborne algae also lands in pool water, putting added stress on its filter and creating unhealthy water conditions.
Sand, silt, and other debris etches concrete and patio pavers, increasing the risk of splitting and chipping. Driveway and sidewalk power washing removes abrasive debris and restores the appearance of painted concrete especially.
Note, too, that professional home power washing might also reveal areas of needed repairs especially on the roof and along exterior walls. You might not notice cracks along shingles and brick walls or other such damage underneath layers of dirt and grime; professional power washing allows you to schedule timely repairs, protecting your home from more extensive damage.
Professional residential pressure washing also improves the appearance of a home in an instant, creating a bright, clean look while restoring the color of exterior brick, painted concrete, and wood surfaces. You might find that your home doesn't even need fresh paint or siding when you see the difference pressure washing makes for its overall appearance!
How Often Should You Power Wash a House?
Most homeowners schedule residential pressure washing services every other year but note that this is just an average, not a set guideline for every homeowner to follow! If you live in a moderate climate far from the coast as well as busy roadways and airports, don't cook outside, and have a leaf guard over your home's gutters, you might not need home power washing more often than every three to five years.
On the other hand, homes close to a water body or coast might need annual pressure washing, to remove layers of sandy grit and grime from the roof and exterior walls. Busy highways, marinas, airports, and production facilities often produce lots of soot and air pollution that eventually settle onto nearby homes; if this describes your area, consider annual pressure washing!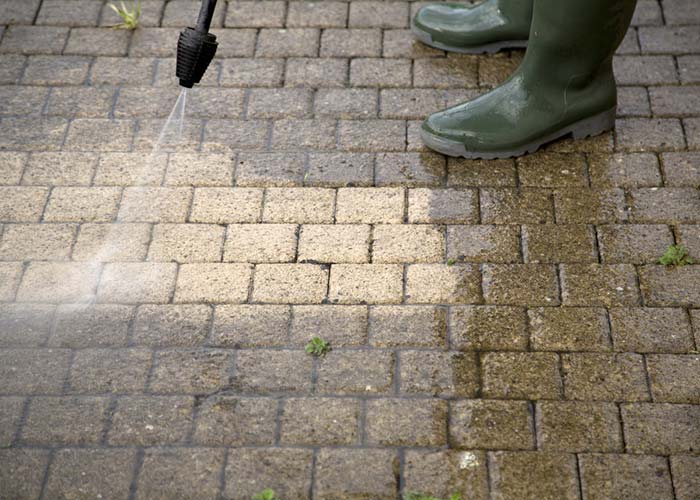 Homes located in high humidity areas are also prone to mold, mildew, moss, and algae, all of which damage exterior surfaces and create an unhealthy exterior environment. If you notice any of these contaminants growing along outside walls or roof eaves, it's time to schedule professional power washing!
It's also good to consider exterior house washing before you put your home on the real estate market, so your property looks its best and doesn't look rundown, shabby, or neglected. If you entertain outdoors during the summer season or if summer storms are common in your area, consider professional pressure washing after autumn, to remove soot and smoke as well as unsightly and damaging storm debris.
Related Questions
What's the difference between pressure washing and power washing?
Pressure washing refers to any exterior house washing using increased pressure. Power washing uses hot water during this process, often to dissolve grease, oil, and similar stains.
Is there a difference between residential and commercial power washing?
Commercial power washing might include cleaning exterior lights, signage, oversized display windows, large parking lots, and other fixtures and features not commonly found on residential properties! If you're a commercial property owner, ensure you choose a power washing company that offers commercial power washing specifically.
How do you choose a power washing company?
Any contractor can rent pressure washing equipment and call themselves a power washing company, which is why it's vital that a homeowner check reviews, number of years in business, and if he or she offers guaranteed satisfaction. Note, too, that a professional will charge an appropriate home power washing cost, as they know quality work takes time, experience, and specialty equipment not found in an everyday hardware or home improvement store!