Many homeowners wonder if it's good to pressure wash a deck and fence in West Hartford, or if this work will somehow damage wood slats and beams and other materials. While Connecticut offers beautiful weather throughout its four seasons, long winters and strong storms in summertime often result in lots of caked-on dirt, mud, grime, moss, mold, and other debris along fences and decks. Pressure washing services in West Hartford are an excellent choice for removing all that unsightly dirt and grime.
There are many other benefits to pressure washing services in West Hartford, especially for exterior decks and fences, as well as driveways, sidewalks, windows, gutters, and roofs. Knowing these benefits and why it's best to leave this work in the hands of a professional is vital for any homeowner, so you know the best way to maintain your home over the years and ensure a clean and pristine exterior that's ready for relaxing and entertaining!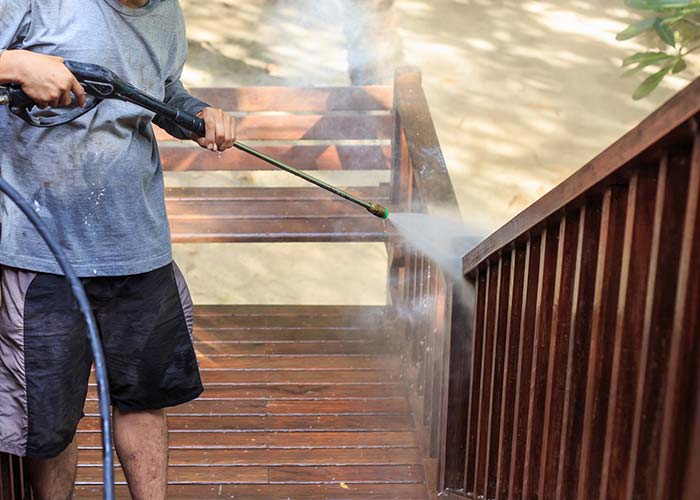 Why Pressure Wash a Deck and Fence in West Hartford
Some homeowners might be under the mistaken impression that getting a wood deck or fence wet is bad for the material, as the wood then rots or collects mildew and mold. This might be true for lots of wood materials but note that decking and fence slats are coated and otherwise treated to avoid water damage. If they weren't, they would rot away every time it rains on your property!
Pressure washing a deck and fence in West Hartford actually kills and removes mold spores and mold growth as well as mildew, algae, and other contaminants. Pressure washing services in West Hartford also remove dirt, mud, and other slick grime from the surface and steps of decks, creating a safer surface for foot traffic. Power washing a deck and fence in West Hartford also reveals their true colors so they no longer look dull and dingy.
A thorough pressure washing in West Hartford also reveals areas of needed repairs. Small chips, cracks, splits, and other damage might hide under thick dirt and grime, growing larger over time. After power washing a deck or fence in West Hartford, you can then patch up that wood and give the materials a fresh coat of paint or stain.
Deck Power Washing in West Hartford is Not a DIY Job
A homeowner might try to tackle deck power washing in West Hartford and notice streaks or other unsightly marks left behind. This isn't unusual, as too much pressure or the wrong detergent damages wood, creating unsightly streaks, swirls, and other such marks. If allowed to dry on a deck or fence surface, detergent also creates an unsightly mess that's difficult to clean!
When cleaning damaged wood pieces, high pressure washing also creates larger splits and chips and can outright ruin decking. It's also quite easy to blow away loose nails, bolts, and other connectors, and to strip paint or stain. In the end, an unprofessional job can make your home's deck, wood fence, and other such pieces look worse than when you started!
A power washing contractor in West Hartford ensures an effective yet safe cleaning of all your home's exterior surfaces, including wood decking and fences. He or she will know the right detergent to use according to decking and fence materials and the level of dirt and grime, and the pressure or cleaning techniques best suited as well. With professional pressure washing services in West Hartford, your home's deck and fence will be clean and free of damage, without the risk of ruining the wood or otherwise creating an unsightly mess.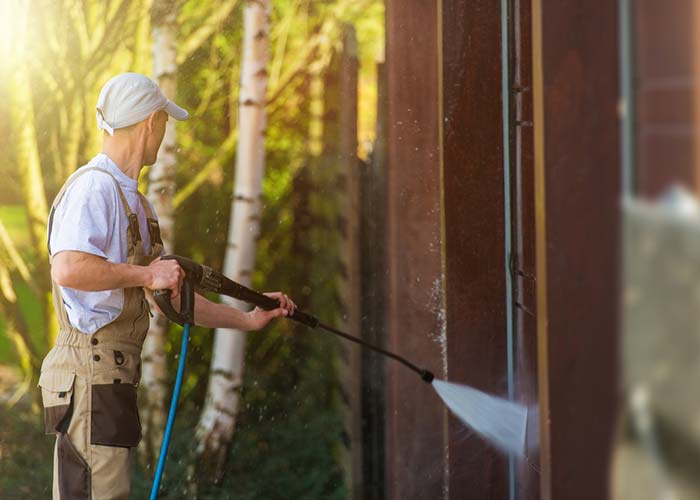 How Much Does Pressure Washing a Deck and Fence in West Hartford Cost?
Every pressure washing company in West Hartford sets their own prices; some might be hourly, usually anywhere from $75 to $200 per hour, and some are per square foot of the surface needing cleaning. Some pressure washing companies in West Hartford might also add charges for extra dirt and grime, surfaces difficult to access, and aged materials needing extra caution.
As there is no easy way to determine your potential deck and fence West Hartford cost, it's best to call a power washing contractor and arrange for a free estimate. He or she will inspect your fencing and decking, note the work to be done, and then offer a concrete estimate for all the pressure washing services you need to have done.
Why Consider Other Residential Pressure Washing Services in West Hartford
When you're scheduling deck and fence pressure washing in West Hartford, consider other exterior cleaning services as well. Roof cleaning of a West Hartford home removes thick soot, air pollution residues, bird droppings, leaves, twigs, seeds, and storm residues, for a clean and pristine roof. Regular roof cleaning also reduces the risk of loosened shingles and tiles and mold growth.
Gutter cleaning of a West Hartford home protects your house from water damage! Gutters direct rainwater to nearby downspouts and away from the home and foundation. Pooling rainwater increases the risk of damage to a home's exterior brick and concrete while water running down the sides of the home leaves behind unsightly streaks and marks! Clean gutters free of clogs offer excellent protection from these risks.
Exterior house washing in West Hartford also removes mud, dirt, and other grime from outside walls and along a home's foundation, protecting brick and siding from water damage. Pressure washing services in West Hartford remove cobwebs, insect nests, and termite tunnels, keeping those bothersome insects out of your house and away from your backyard area. Power washing of a home's exterior surfaces also reveals areas of damage so you know when brick walls, roofing shingles, and other areas need patching or other repairs and replacement.
Keep these points in mind when scheduling pressure washing for a deck and fence in West Hartford. Ask your pressure washing contractor if they would inspect the home's gutters, roof, sidewalks and driveways, and other areas for needed cleaning. This will ensure a property that is clean and pristine and looks its best year-round!